Invite more
w

onder into your

w

orld.
Made in the USA. Made to Invite Wonder.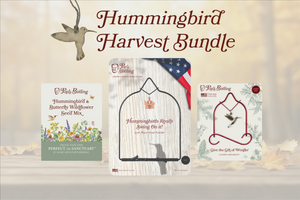 Hummingbird Harvest Bundle
Invite more wonder this Fall with Pop's Hummingbird Harvest Bundle!
Shop Harvest Bundle
About Pop's
Captivated by the mystique and originality of the hummingbird, William "Pops" Sloan began the quest to invite more wonder into the lives of birders everywhere, so everyone could experience the joy and awe of a hummingbird sighting firsthand. Thus, the hummingbird swing was born.
Pop's commitment to 100% Made in USA Manufacturing has led to the most innovative hummingbird products in the world.
From William O Sloan, "Pop's" creation of the first ever Original Hummingbird SwingTM, to our specially-designed products and nectars, our mission is to make it easy for hummingbird lovers everywhere to experience the magic and wonder these special birds provide. Ready to invite wonder into your world?
LEARN MORE
This is very attractive - and it works. The little hummers actually sit on it. So neat to see them sitting still. They really seem to like it. In fact, they fight over it, so I will have to get another one.
Barbara
This swing is nicely made, quality workmanship, and beautiful to look at.
Nonna
I received this cute hummingbird swing as a gift. I saw one at my friend's house and told her how much I loved it, so she gave me one for my birthday. My hummers use it all the time!
Sharona